Duke of Edinburgh Gold Presentations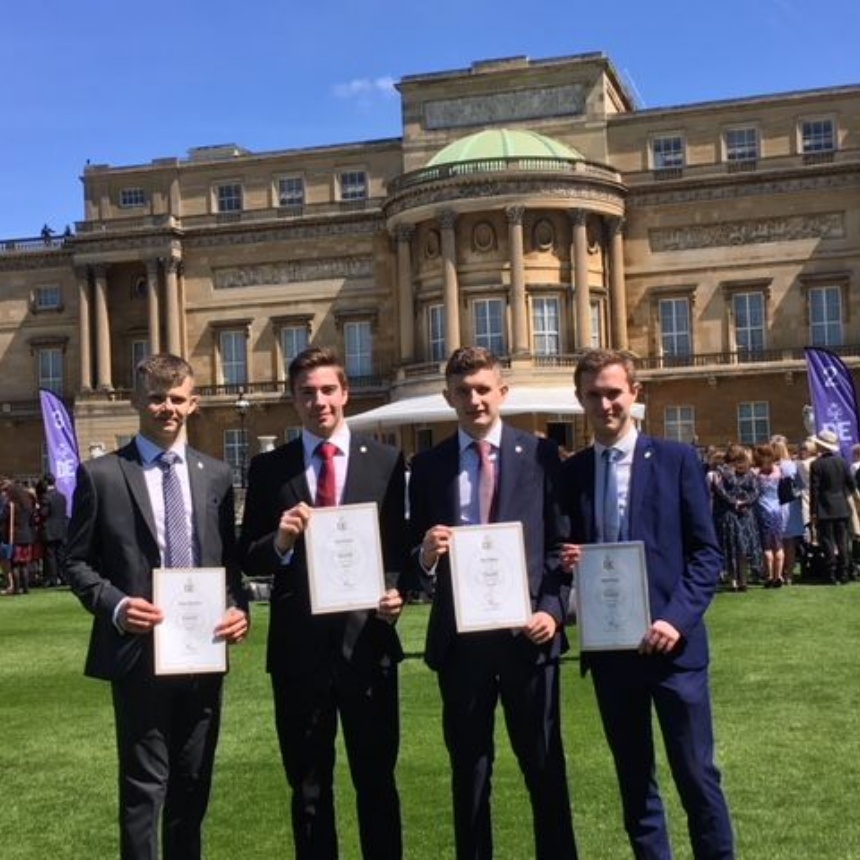 Gold D of E Presentation – Buckingham Palace – 13 May 2019
Gold D of E Presentation – Buckingham Palace – 13 May 2019
We were delighted and very proud to see our first Gold Duke of Edinburgh students awarded their certificates at Buckingham Palace in May. Matthew Eteen, Ben Hillary, Jesper Howe and Jamie Kendrick, all Year 13 leaver's last year, completed their award during their two 6th Form years. Individually they have all achieved 156 hours of volunteering, physical and skills challenges, a 5 day residential and a 4 day wild expedition – a great achievement! Jesper actually cycled from 'Home to Rome' as part of his residential and volunteering sections, raising money for Cancer Research during the 2 week challenge.
In attendance at the Award Ceremony were HRH The Earl of Wessex, HRH The Countess of Wessex and HRH The Duke of Gloucester. Our group were spoken to individually by HRH The Countess of Wessex who asked for stories of their adventures. BBC newsreader Sophie Raworth then joined our group speaking to them about her own experiences of personal challenge before presenting the certificates. She explained that she had taken up running as an adult having not been particularly sporty as a child. She admitted to becoming hooked after her first Marathon going on to take part in a 6 day 150 mile ultra-marathon in the Sahara Desert in April 2018. She told the students that her experiences had taught her two things - 'You can do so much more than you think you can' and also that 'When a door opens you've got to push it or you will never know what's on the other side'. Wise words and indeed very good descriptors of our student's achievements.
All four students have continued to prosper after leaving Holmer Green. Jesper is at Oxford Brookes University studying Business and Geography, Jamie is also at Oxford Brookes University studying Sports Science and Physiotherapy and Matt is at Manchester University studying Maths and considering a career as a Pilot. Ben is working for the NHS as a 999 Emergency Call handler. So far he has dealt with some extremely tragic situations but also the joy of talking through 4 sets of people to deliver their babies. He is hoping to start his Paramedic training next year. Ben also worked as a Duke of Edinburgh Ambassador for a year, inspiring other students to get involved.
All 4 said that the Duke of Edinburgh experience had taught them team-work, tolerance, patience and how to motivate each other. All the parents agreed that all their boys had grown up as a result of the challenge and would highly encourage others to take on the Award.
The Duke of Edinburgh Award continues to go from strength to strength at Holmer Green with 43 students taking Bronze this year, 20 taking Silver and 9
taking Gold, the latter currently preparing for their wild expedition to Norway. We would like to thank all the teachers and staff both past and present who continue to support these Awards so that our students can benefit from this unique experience.
Mrs Jackson
D of E Verifier, HGS