Junior Maths Challenge - 2019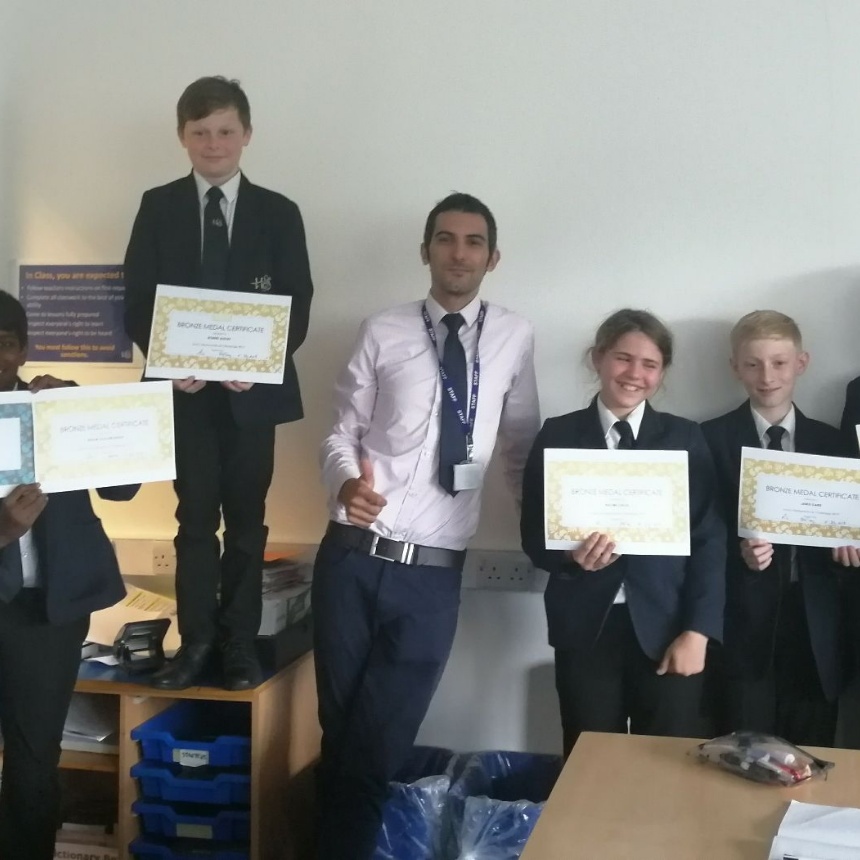 All students in the 7W and 8W mathematics classes recently tackled the United Kingdom Mathematics Trust's 'Junior Mathematical Challenge' in examination conditions in one of their maths. lessons.
This is an event that is staged annually by thousands of secondary schools across the country. It is designed to be sat by our best young mathematicians. Being chosen to participate is therefore an achievement in itself. Students were also awarded Bronze and Silver certificates as detailed below, for performing particularly well with the challenge:
7W
Bronze certificates:
Jesse Boughton, Naomi Callis, Robert Higley, Jamie Gard, Jagger Read, Luke Kerrigan and Nithin Soudarsanan.
Nithin, who also received the 'Best in Year 7' certificate, was one mark away from being awarded a silver certificate!
8W
Silver certificates:
Thomas, Ryan Horton , Lewis Newell and Bilaal Sohail.
Bronze certificates:
Grace Bennett, Annie Capstick, Megan, Jessica, Evie Hall, James Keen, Sophie Marshall, Isla Rogers, Maya Barrett and Charlotte King.
Thomas achieved the highest score overall and was therefore also awarded the 'Best in School' certificate.
A huge congratulations to all students who were involved in this event.
A sample question from the challenge:
20. Emily writes down the largest two-digit prime number such that each of it's digits is prime. Krish writes down the smallest two-digit prime number such that each of its digits is prime. Kirsten subtracts Krish's number from Emily's number. What answer did Emily obtain ?
14 B. 20 C. 36 D. 45 E. 50
Answer E