Bronze and Silver Duke of Edinburgh Presentations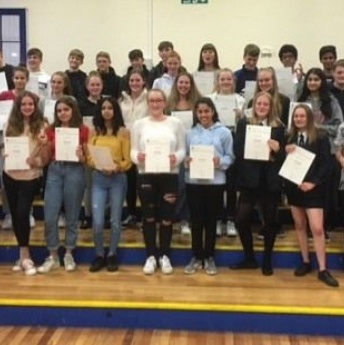 We were delighted to award 43 Year 10 students with their Bronze Award and also 18 Year 11 students with their Silver Award at the Presentation Evening on 7 October 19.
Kate Aldersley from Duke of Edinburgh came to present the awards and reminded the students how proud they should be with their achievements and of all the new skills they had learned. She also noted the hours of voluntary work that the students had carried out to support their community.
We have 9 Year 13 students completing their Gold Awards this year so hopefully they will be attending their presentation at Buckingham Palace next May.
A very big thank you for Miss Stratton for giving up some many hours including weekends to support these programmes and also to Mr McMaster and Miss Read for assisting this year.
Lynda Jackson, D of E Verifier