GCSE BERLIN HISTORY TRIP - OCTOBER HALF-TERM 19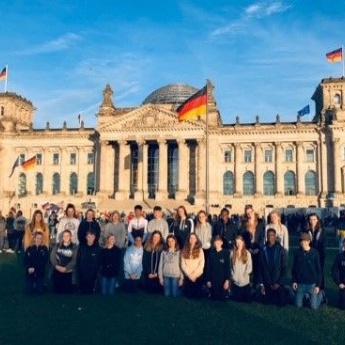 After arriving in Berlin, we met our coach and travelled to our hotel to drop off our luggage before being introduced to our tour guide, David Rich, and heading out on a walking tour of Berlin for the afternoon. The weather was exceptionally kind to us, and we visited numerous sites on our tour including the Brandenburg Tor, Hitler's bunker, and Bebelplatz as well as the Reichstag.
The most prominent place of the day was The Memorial of The Murdered Jews of Europe, and we walked through the chilling towers of stone which engulf you from all sides. The visit to the museum under the memorial was another experience on its own; it would take three years to read out all the stories of those victims of the Holocaust.
We spent the next day in and around the Jewish Quarter of Berlin. Here, we visited the Otto von Weidt workshop, which was equally as informative about the resistance against oppression posed by regular Germans. It is interesting to see the conditions in which Jewish people were being hidden throughout the city during the Nazi regime, as here the rooms have been perfectly preserved. The streets which surround the workshop are filled with colourful graffiti to shine colour onto this dark period in history.
The following day we had an early start to make our way to the site of Sachsenhausen concentration camp. Areas of the site have been preserved and turned into memorials, although much of the site has been dismantled. Now a desolate wasteland, no longer place of suffering, but rather one of remembrance for the hundreds of thousands of people whom were murdered or worked to death. From here, we travelled on to the Berlin Olympic Stadium, site of Nazi rallies and the 1936 Olympic Games. Berlin is itself a memorial to the perseverance of the human spirit.
Wherever we went, be it cafes, museums, churches, shopping centres, we received compliments about the impeccable behaviour of our students. They did us proud with their maturity and attitude throughout. In the words of our guide, 'every student was polite, well-mannered, kind and considerate towards each other and the wider public, and fully engaged in their learning.' Memories were made which will last a life time.
Miss Harrison, Head of History