Billionaire Boy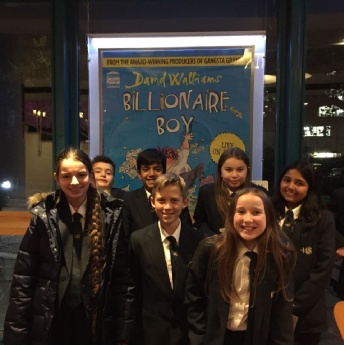 David Walliams is not only a celebrated comedian, he's an intensely popular author of children's books. From Gangster Granny to World's Worst Children to Ice Monster, Walliams' books are in high demand from our school library. On 23 October, sixty lucky Year 7 students were able to see one of his most popular books, Billionaire Boy, come to life as a play.
Joe Spud, a 12-year-old boy, is the richest boy in the world. His father is the inventor of Bum Fresh, a new type of loo roll that is incredibly popular. With so much money, Joe can buy anything he wants – except a friend.
The play was hilarious, moving from poop jokes to silly musical numbers about horrible teachers. Even with all the deep silliness of Joe trying to navigate nobody finding out he's the 'Bog Boy' at his new school, there were some truly touching moments when he defends his newfound friend Bob from bullies, and tries to help his dad realise money isn't everything.
It was a delightful musical that had Year 7 giggling throughout. Many students commented how much they enjoyed the play – getting ice cream at intermission didn't hurt either!