Young Chef Competition Success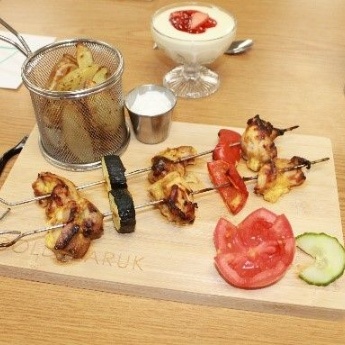 On 12 November we had two visitors from the Rotary Club of High Wycombe to judge the first round of their national competition; to find the Young Chef of the Year. The students who took part were competing for the chance to represent the school and themselves in the local finals against schools such as The Royal Grammar School.
Each pupil was expected to prepare a two-course meal, main and dessert costing less than £12.00, within an hour. Before they could commence cooking their dishes they were allowed 30 minutes to lay a presentation table and assemble any equipment they required. They had to provide a time plan and costing sheet to prove their dishes were in budget.
Everyone was ready to start cooking by 4pm and then the competition really heated up. Our 8 chosen students, ranging from Year 9 to Year 12, were in a calm flurry of activities - all so quiet and focused. We had curries being made as well as de-stoning plums, reducing them and turn this into a fool.
The judges were thoroughly impressed with the composure and the high level of professionalism shown by all of our students especially our Year 9 candidates who had only been formally study Hospitality and Catering for a single half term.
The students were assessed on their budgeting, menu selection, table presentation, technical skill of the dishes created and the flavour of the final products. The judges were so impressed with our competitors that they instantly awarded a first place (Annie Baskerville Year 10) who cooked a marinated chicken kebab, sweet potato wedges, salad garnish with a strawberry cheesecake to follow and our runner up (Ella Cockcroft Year 10) who produced chicken pizza with a cherry chocolate mousse.
Finally, I would like to congratulate all of the students who took part in this event; you are so talented and were true ambassadors for the school. Our visitors continually remarked on your composure and talents during the competition. I am so proud of all of you and I look forward to supporting our two students going through to the next round.