Chemistry Club!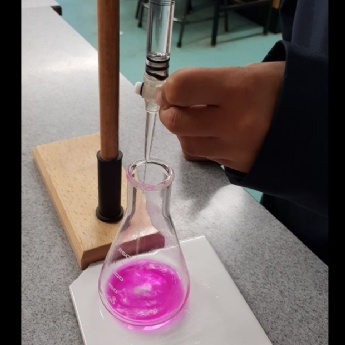 The 2019 school year has seen a return of Chemistry Club! The group was set up by Miss Rouse and our wonderful science technicians last year for Year 7 and 8 students with the aim of engaging and inspiring pupils with chemistry. Along the way we also aim to develop students' confidence and practical abilities when working in a science lab.
Every week we do an experiment which the students typically do not cover in class so there is no repetition. Some experiments don't quite fit into the curriculum or are shortened versions of GCSE practicals. Our technicians give a demonstration each week for the students to watch and ask questions about.
We started this year with some easier start-up experiments, such as designing bath bombs, testing indicators and making slime (which created a lot of messy enjoyment!)
The students are making quick progress and demonstrating excellent skills and safety awareness, so we have now moved onto some more technical chemistry.
In the last few weeks the students have tried chemical titrations, investigated electricity made by different chemicals and created Blue Bottles demonstrating chemical equilibrium.
There are plenty more exciting experiments planned for 2020! All are welcome at Chemistry Club!
When: after school every Wednesday until 4pm.
Where: S6, Miss Rouse's lab
Who: all Year 7 and 8 students. Just turn up!