Girls Get SET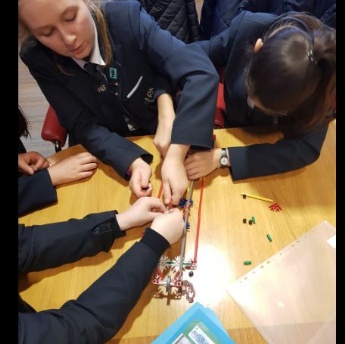 This year HGSS has been invited back to GE Healthcare in Amersham to take part in their Girls Get SET event (Science, Engineering and Technology).
GE Healthcare has been working with local schools for several years to show girls the massive opportunities available to them in the world of science and technology. One of the aims is to address the gender balance within STEM careers, as females only make up a small percentage of the current workforce.
10 of our Year 8 girls were selected to take part and were invited to GE Healthcare on Friday 6 December. The day took place in one of the boardrooms ("It's like The Apprentice!") and by happy coincidence, HGSS was the only school to attend this day, so the girls took full advantage of the opportunity!
The day started with an introduction to clinical research and career options given by the Director of Clinical Operations at Amersham, followed by the Spaghetti Tower Challenge! Congratulations to Jessica and Rhianne for building the tallest free-standing tower!
After lunch the girls had to work in teams to complete a quiz about medical diagnostics and human anatomy, then work to build a working model of an MRI machine. This consisted of three main parts:
Building the K'Nex model just from a picture. Well done to Nia, Elayna, Zoe and Mia!
Completing the Arduino electronics to power the motor from a basic diagram. Congratulations to Taylor, Betsy and Leela!
Typing the computer code to run the motor. Brilliant work from Rhianne, Poppy and Jessica!
The girls all showed wonderful enthusiasm and ability throughout the day, and displayed excellent team work, communication and scientific thinking for all the challenges given to them. We all look forward to returning in March for the next Girls Get SET event!
Miss Emma Rouse