6th Form Celebrations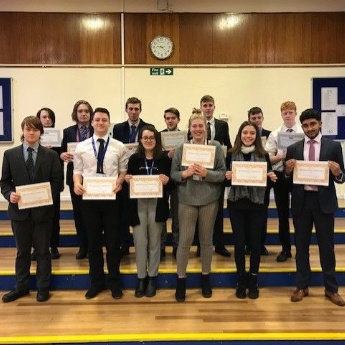 Celebrations all round in the Sixth Form in our last Assembly of the year.
Level 3 Arts Award Gold certificates were presented to……Lauren Medway, Melissa Brodie, Lucy Deanus and Emily Butterworth.
Our Sixth Form mathematicians were also celebrating having been presented with their UKMT Senior Mathematical Challenge certificates. Receiving Bronze we have Thomas Ward, Joseph Tolley, Evie Swatton, Cara Duggan, Oliver Swatton, Sam Carr, Jacob Cockbill, Carla Werrell, Onel Ayupala and Sean Underwood. Receiving Silver Daniel Cook and Ben Kear, and finally Gold and Best in School Robert Ayres.
And finally our Sports leaders; The Spirit of Leadership Award goes to, Jack Pattenden, Jaycie Hart, Emma Styles, Lucy Deanus, Oliver Baldwin and the SLQ level 2 Qualification in Sports Leadership to Sean Burnham, Daniel Allington, Alistair Lamming, Jack Pattenden, Robert Ayres, Daniel Holmes, Jaycie Hart, Emma Styles, Freya Saunders, Conor Stables, Lucy Deanus, Chelsey Dunn, Kaitlin Lewin, Maddie Pearce, Claudia Cooper, Oliver Baldwin, Niall Stratford, Ben Turner.
Well done to all of our students receiving Awards.