Buckinghamshire Book Award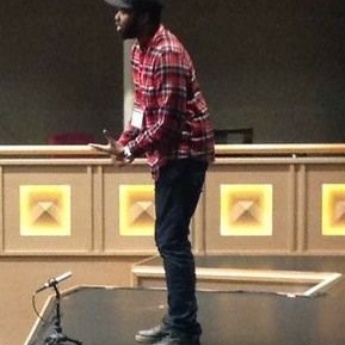 On 5 February, 11 students from Years 7, 8 and 9 visited Pipers' Corner School for the presentation of the Buckinghamshire Book Award.
The Buckinghamshire Children's Book Award was launched in 2018 to promote the best books written for children and young adults that were published in the last 12 months. The aim of the Bucks Book Award is to inspire and empower young people to read more and to share their love of reading with others.
Students at schools in Buckinghamshire, including Holmer Green, read and voted for their favourite books from a longlist, culminating in a shortlist of 6 books. Having read books from the shortlist, 3000 students across Buckinghamshire voted for the winner of the 2020 award.
The awards ceremony was enjoyed by everybody. The wonderful (and award-winning!) poet/musician Karl Nova talked about his inspiration as well as performing some of his poems. Students who attended the awards absolutely loved it as he is an inspiring speaker, who interacted with his audience and had them engaged from start to finish.
He then revealed the BBA winner: A Good Girl's Guide to Murder by Holly Jackson. Runnners up were: Two Can Keep a Secret by Karen M. McManus and The Boy Who Steals Houses by C.G. Drews
After the event, students took part in a poetry workshop which ended with the opportunity to go up on stage to share their work.