National Skills Challenge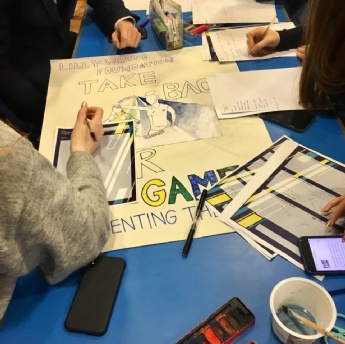 On the 9 December 2019, my team and I undertook the National Skills Challenge against the rest of the Sixth Form and came out victorious!! We challenged and pushed ourselves to reach the best of our potential with the tasks at hand.
We were asked to improve the app "Football Manager," and create and find our: target market, a campaign, a tv advert, a logo, website, merchandise and calculate all our costs for running our new business. At a first glance, I was not interested, as football is not a topic that engaged me, however, throughout the day I pushed myself to practice my leadership skills and put myself forward as Project Manager and successfully brought my team to victory! I learnt that it's a skill in itself to be enthusiastic about something you're not enthusiastic about and I found myself thoroughly enjoying the day. I cannot wait for the national final at Queen Elizabeth Olympic park, and I'm very grateful to have been given this experience by Ms Kiss.
"I went in there knowing that I was going to enjoy it, but I wasn't expecting to get so absorbed and involved in it." Evie Swatton, Financial Director.
"I was able to work collaboratively as a team, but I also enjoyed working independently on the tasks that my project manager delegated to me," Cara Duggan, Public Relations Director.
"I thoroughly enjoyed the day as I was able to get creative, work hard and learn more about what its like to create a business plan," Henry Davidson, Campaign Advisor.
" I loved working as a team and being in a different environment to lessons," Jack Eaton, Marketing Director.