Maths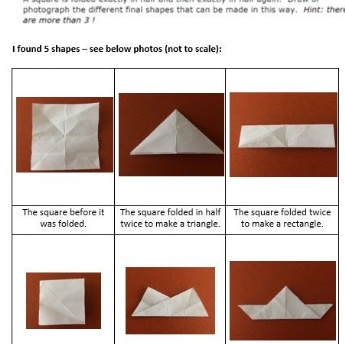 The United Kingdom Maths Trust (UKMT) runs competitions each academic year for Key Stage 5 (Senior Challenge), Key Stage 4 (Intermediate Challenge) and Key Stage 3 (Junior Challenge).
The Junior Challenge in late March was cancelled due to the lockdown. However, we are pleased to announce that some of our Year 8 and Year 7 students took part in the online challenge on Monday 15 June, which is designed to stretch the thinking of even the brightest young mathematical minds up and down the country. In both the Senior and Intermediate Challenges this year, 13 of our students were awarded gold, silver or bronze certificates. Good luck Year 7 and Year 8!
The photograph is of a practice response completed by one of our Junior Challenge entrants.
During the lockdown the Sixth Form have been taking part in live lessons on Microsoft Teams. Some of our teachers have been able to produce a range of personalised videos for students in different year groups. We would encourage students to watch and learn from these videos, even though they may not have come across the topics. Those who are looking to study A level maths in the future can see a sneak preview of more advanced mathematics that is being taught by our staff. The videos can be found on HGSS 365.
These unusual circumstances require students to be independent and show ingenuity. Teachers have been using a range of resources to enable students to access new topics including: tailor-made PowerPoints, ready-made videos, MyMaths, ActiveLearn, Corbett Maths, Maths Genie and NRich. Using online resources, students can learn anything from finding probabilities and understanding trigonometry to completing the square. In addition to these resources, students have also completed feedback tasks, which are generally written exam style questions that are submitted to the class teacher, who then provides individual feedback to students.