LRC News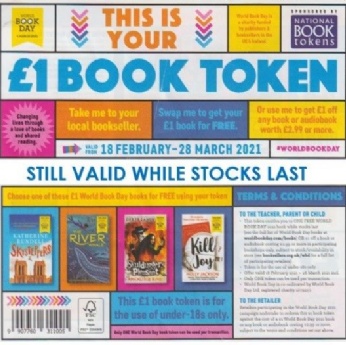 Students who have not yet been able to use their World Book Day £1 vouchers should rest assured that they will remain valid as long as stocks of the World Book Day Books are available. Whilst stocks have run out at the supermarkets, vouchers can be used in bookshops when they re-open during the holidays.
We were pleased to be able to offer some activities to students in celebration of World Book Day this year, starting with an Assembly on Monday morning.
During assembly students were asked to guess the book titles or characters, from the contributions of various members of staff who dressed up for the occasion. Students were then invited to do the same, emailing their submissions to tutors, and prizes were awarded to all students who took part, with very creative ideas of their own.
Later in the week students were invited to guess the favourite books of members of staff that fell into the following categories:
Current Favourite Fiction

Favourite TV or Film adaptation of a book
There were lots to guess as many members of staff shared their favourites, with Harry Potter featuring as current favourite fiction and film adaptations for several participants. Other shared favourite adaptations included the Lord of the Rings by J R R Tolkein and Pride and Prejudice by Jane Austen.
Members of staff who dressed up as book titles/characters for students to guess included:
Mr Callendar daughter as Betsy and Joe by Ernest Shepard.

Mr Callendar as War Horse by Michael Morpurgo and Jack Torrance from The Shining by Stephen King.

Mrs Dale as Mary Poppins by P L Travers and Daisy Buchanan from The Great Gatsby by F Scott Fitzgerald.

Mr Louca as Willie Wonka from Charlie the Chocolate Factory by Roald Dahl

Mrs Rogers as Professor McGonagall from Harry Potter the Goblet of Fire by J K Rowling.

Mrs Olding as Tigger from Winnie the Pooh by A A Milne and also as The Woman in White by Wilkie Collins, with Mrs Olding's husband as the Hunchback of Notre Dame by Victor Hugo.

Ms Kiss as Fantastic Mr Fox by Roald Dahl.

Miss Wilson as Hester Shaw from Mortal Engines by Philip Reeve.

Mr Wood's children as Winnie the Pooh by A A Milne and The Very Hungry Caterpillar by Eric Carle.