A-level Business students meet CEO of Harvey Nicholls and Amazon Business Consultant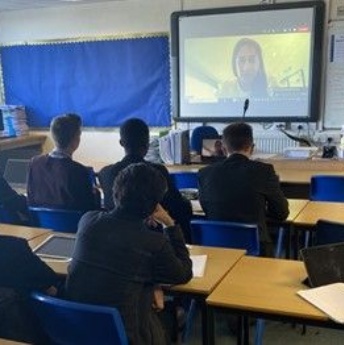 Students were first introduced to an Amazon Business consultant Ian who explained the benefits of using Amazon as a retail platform. He gave students insights into the different marketing techniques amazon uses as well as how Amazon can provide smaller retail companies the cutting edge to be able to compete against competitors. He explained how the Amazon fulfilment works as well as how Amazon use keywords and tags to boost sales. Students found this chat very exciting as they were able to gain a further insight into Amazon and the operation services it provides for businesses in further detail.
The second talk was an exciting meet with Manju Malhotra who is the CEO of Harvey Nicholls. This talk was very beneficial as it allowed students to learn more about businesses in the premium market for a variety of products. It gave students the advantage to reaffirm their knowledge about diversification and differentiation of products to provide a competitive advantage for businesses such as Harvey Nicks. Furthermore, the talk allowed students to become educated on the impacts of COVID (and Brexit) of business activities and turnover, with a decrease in turnover with lowered demand from inflation; impacts for businesses were strategy based. Last of all, Manju provided an interesting insight into opening new areas of the website and store departments, to introducing a kids range and the inclusion of beauty and detox treatments in Harvey Nicks' stores.
Overall having these opportunities meant that students now have personalised case studies for application, with which they can also answer questions like that of an exam style, as well as improving an all-round knowledge about retailers' strategy, sustainability, and impact of external shocks.
This is the start of some exciting introductions for our students in the Business and Economics department and something we are working towards enabling the best opportunities for them.
Mrs Sabharwal, Head of Business and Economics