Year 9 Netball Report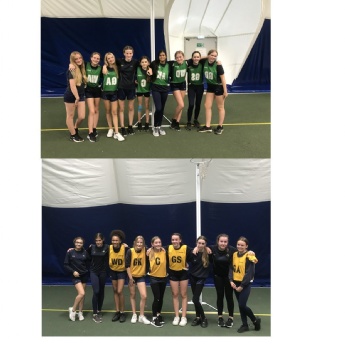 The HGSS netball team has played extremely well this half term winning two of the three matches they have played this half term! They played against The Amersham School, St Mary's School and Chesham Grammar School. Sadly, they did experience their first loss as a netball team but it's all learning experience for the A team.
The first match for the A Team was against The Amersham School, as the first game of the half term they were very successful. The match was 12-5 to HGSS! It was a very thrilling moment for the A team to be back on the court and playing against another school. They thoroughly enjoyed the match even though their lovely netball coach was away, so the A Team Captain (Risi), had to lead their netball game as terrifying and as exciting it was for them. They put their practise to use and showed how amazing of a team they are.
The next game was against St Mary's school and was a victory. The score was 10-9 to HGSS and was very close. It was a difficult game for the A Team, but they managed to win. The team was close to losing but pushed through and succeeded! The player of the match was Megan Vittle, she played well in centre-court and the A team was glad she was recognised for her talents.
The last match the A Team played was very difficult. They played against Chesham Grammar School. Belle was chosen as player of the match by Chesham for her excellent skills. They suffered a crushing loss. In the first quarter, Chesham was in the lead but in the first half it appeared to be somewhat equal with HGSS scoring some points. However, in the second and third quarter it became increasingly difficult for Holmer Green to catch up but at least they tried their hardest. The A Team was very unsatisfied with this loss so they will try even harder when they face their next opponent!
The A Team have tried their best and have done well. As captain of the A Team, I am proud of the netball team for doing so well. Even though they are a new team, their co-ordination is brilliant, and I am excited to see how they play in the next few games. Every single person on the A Team has played well and I hope the rest of them get player of the match in the next games. I also hope the parents of our team are able to marvel at their playing! I cannot wait to play in the next matches and write more reports on our team.
The B Team won both of their games - one against St Mary's School and one against Chesham Grammar School.
A Team Captain, Risi Tennekoon