Trip to National Film and Television School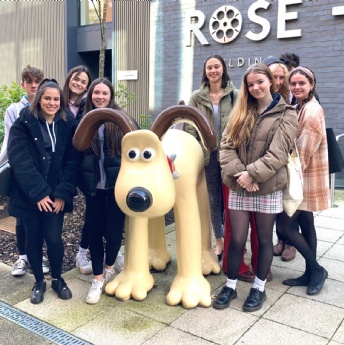 Back in November, a group of Year 12s took part in an inspiring day of talks learning about exciting career opportunities in the Film Industry at the National Film & Television School in Beaconsfield.
Our students heard from industry legends including Peter Dale (Head of Documentaries), John Lee (Head of Modelmaking) and Caroline Amies (Head of the Art Production Department) about the kind of opportunities at the school and in the wider world of making movies. The Film Industry is a thriving sector in the UK economy and offers hundreds of roles and career pathways from set design and build, craftspeople and animators to camera operators, musicians, sound engineers, editors and directors. The passion and energy of the current students showing us around was so brilliant to see, and the teaching staff gave our students great advice to think about telling meaningful stories, doing every challenge to the best of their ability and always staying curious.
For more information about opportunities at the National Film & Television School visit
https://nfts.co.uk/