Work Experience and Industry Insight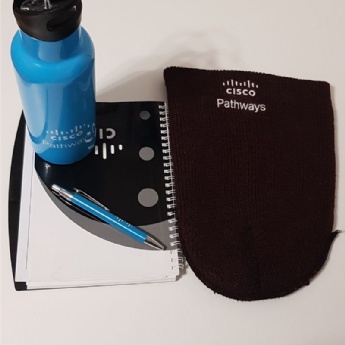 We encourage our Sixth Formers to take advantage of opportunities for work experience and industry insight in order to inform their choices around careers after school. Covid-19 has led to the creation of lots of virtual work experience opportunities, allowing students to benefit from experiences with a wider range of organisations. During the Autumn half-term, one of our Year 12 students participated in a week's virtual work experience at leading IT networking consultancy, Cisco, and we asked him to share his thoughts on this opportunity.
Cisco Virtual Work Experience
The Cisco work experience was an opportunity that I would wholeheartedly recommend any fellow student to apply for. Although it was, unfortunately, all online, the team at Cisco did a fantastic job at keeping me and everyone else fully attentive. They put genuine care and effort into getting to know us through interactive questions and quizzes.
An odd aspect of their experience was the structured nature of their work experience as if it was in-person. We had to get up at 9 am and stay on until 4:15 pm to get the certificate of completion. As dreadful as this sounds to students initially, it kept me driven to have to keep a routine of sleep to have energy in the mornings. Although not all sessions were compulsory, the morning ones were.
The optional ones, however, were the sessions with the most insight into the industry. They were where I discovered networking fundamentals about how addresses are needed to represent each device and how data is reconstructed into packets sent across the networks and the internet.
More interestingly, sales proved to be an insightful area in Cisco that has plenty of benefits such as international travel to learn new skills and an all-paid trip to Hawaii if you bring the most sales in a month.
However, it requires strength of character and communication such as having patience, staying calm, and listening attentively to build an idea on what the customer's needs and wants are then addressing any gaps in their idea, also requiring general knowledge on what they want. Opportunities for both technical and non-technical people is likely an interesting insight for anyone interested in the benefits that the tech industry promises, such as working from home. Or even if you want to combine the two.
For having some fun and seeing where our skills lie in communication, leadership, and technical skill, we were placed in groups and pitted against each other in the Dragon's Den Project. We had to come up with an idea that fits the narrative of 'powering an inclusive future for all.'
This project, in my opinion, was the best aspect of the Cisco experience. At the time, it was the most stressful. Still, it gave the excitement of the whole experience and differentiated it from any other work experience further than just good interaction. Typically work experiences do not intend to stress you in any shape or form. But that is unrealistic. Pushing us into teamwork, getting to know each other, and communicating to form an idea was an exciting and fun experience. I got to meet interesting people and discovered skills I didn't think I had.
Abdullah Iqbal, Year 12
Abdullah applied for this opportunity through Speakers for Schools/Experience – a safeguarded portal offering a wide range of virtual experiences and insight events to students across the country.
https://www.speakersforschools.org/experience-2/