Peter Pan Pantomime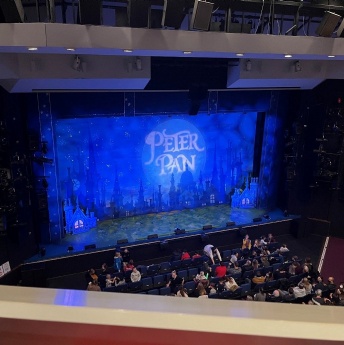 On 16 December, Year 7 had the chance to celebrate the successful completion of their first term at HGSS by attending the Peter Pan pantomime at the Wycombe Swan theatre.
Having studied the text during their English lessons, students were able to engage and participate in the swashbuckling performance by hollering replies to the characters they have come to be familiar with over the Autumn Term. The play was a vibrant musical and put a modernised and unique twist on the classical novel written by J.M. Barrie.
With Jake Wood, of EastEnders fame, playing the notorious Captain Hook, students were given the opportunity to boo and cheer throughout, watching as Peter battled Hook and his pirates as he tried to save Wendy and the Lost Boys.
It was a magical musical that encouraged Year 7 to participate from their seats and had them giggling all the way through. At the end of the night, many students commented on how much they had enjoyed it – particularly the addition of the character Mateo, a charming pirate that worked alongside the fan favourite and familiar, Smee.