New Fiction Books for Sixth Formers in the Library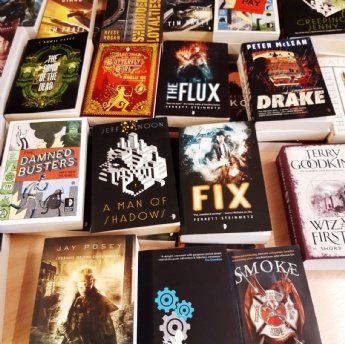 This month, the school library has received a very generous donation of over 50 books from angryrobotbooks.com. Many thanks to Mr Creffield for arranging this for us.
The books include a range of genres including fantasy, science fiction, horror, gothic and steampunk titles plus mystery and adventure books.
There are a selection of stand-alone titles including
Under the Pendulum Sun
by Jeanette Ng, an evocative, claustrophobic gothic novel and
The Resurrectionist of Caligo
by
Wendy Trimboli
and
Alicia Zaloga
a which is wonderfully inventive Victorian fantasy.
In addition, there are several series of books including The Bookman Histories series by Lavie Tidhar – The Bookman, Camera Obscura and The Great Game, a trilogy of thrilling sci-fi murder mysteries set in the 19th century. The To Hell and Back series by Matthew Hughes – The Damned Busters, Costume Not Included and Hell to Pay follows the adventure of crime fighting superhero Chesney Amstruther and his demon sidekick.
We hope to see lots of sixth formers in the library very soon to come and borrow some of our new books!