A "Hands-on" Approach to Anatomy in A Level Biology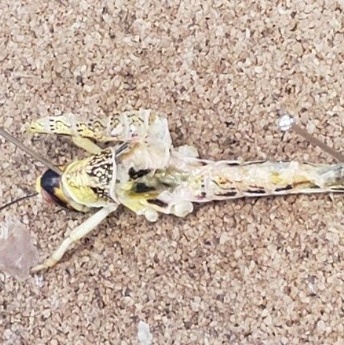 This term in biology our class is learning about the gas exchange in animals. To really understand the structures of how gas exchange works we carried out many practicals, such as a locust dissection and a rat dissection.
We dissected a rat by cutting through the abdomen of the rat, light enough so we didn't cut any of the organs, once it was open you could see the majority of the rats organs. In the picture to the left you can see the liver on the top left of the rat's abdomen, then just to the right under the liver you can see the rat's stomach. In the bottom right you can see the large intestines and the small intestines on the bottom left. These were on the top, to see the organs underneath we started taking out the organs, and saw the rat's kidneys.
We then cut higher up through the ribcage of the rat and saw part of its respiratory system, we saw the lungs, heart and diaphragm.
We also did a locust dissection to see the respiratory system of an insect. We had to pin the locust to a corkboard, and stretch out the body, this was so the body didn't move and was easier to dissect. Then we had to cut open the body near the spiracles, but we had to make sure that we didn't cut or damage any of its organs. When covering the locust in water, you could see the tracheoles clearer.
These dissections are interesting especially with those in our class who want to go into medicine and a surgery dominated field. These dissections helped us gain an insight on what surgery would be like, our dissection might have been on a smaller scale, but it still helped us gain an understanding of operation would be like if someone wanted to go into zoology, or become a surgeon.
By Sara Yasin, Year 12
A note from the teacher: Before doing the dissections, students discussed the importance of ethics and did a risk assessment. Animal dissections are not commonly used in school, however, the use of dissection in A Level is justified as a valuable learning experience. The Science Department encourages the aspirations of students who wish to improve the lives of people and animals by becoming doctors, health professionals and vets. The rat dissection was an optional, after school opportunity, that is not required as part of the A Level course, but one that gives the students a unique talking point for university applications.