Welcome to ex-student as artist in residence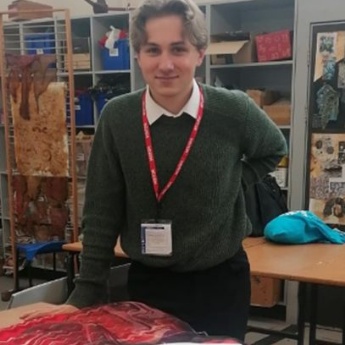 A huge warm welcome to Mr Travell, who will be working in the Visual Arts department one day per week this academic year. Mr Travell was a student at HGSS and went on to study at Bucks New University. He recently secured a First Class (Honours) degree in Textile design.
Mr Travell will be working predominantly with GCSE and A level students in small groups and one to one. He will also be creating his own work as an artist in residence and assisting Year 12 and 13 students with how to put their portfolios together for art-based interview. We are really lucky to have Mr Travell working in the Department and are confident he will be a very valuable part of the Visual Arts team.
Mrs A Hearne
Assistant Headteacher-Creative Curriculum