WE ARE A MICROSOFT SHOWCASE SCHOOL!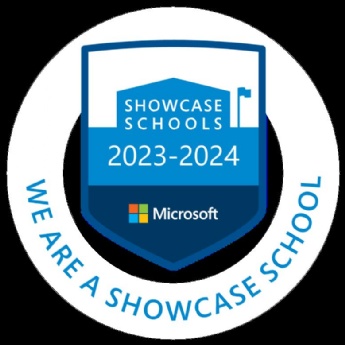 Holmer Green Senior School Achieves Microsoft Showcase School Status for 2022-2023
Holmer Green Senior School has been awarded the prestigious Microsoft Showcase School Status. This achievement reflects our commitment to excellence in education, innovation, and technological advancement.
This award is a testament to the hard work of our staff, who have tirelessly worked to integrate Microsoft technologies into the classroom, enhancing the learning experience for our students.
As a Microsoft Showcase School, Holmer Green Senior School joins a global network of educational institutions that are leading the way in leveraging technology for educational excellence. This community provides a unique opportunity for collaboration and sharing of best practices with schools from around the world. It allows us to learn from others and contribute to the global conversation on education. We are proud to announce that many of our staff are 'Microsoft Educators' and have received the certification to join the elite global community.
One of the key benefits of becoming a Microsoft Showcase School is the way it augments our students' learning and educational experience. By integrating Microsoft's cutting-edge tools and resources into our curriculum, we empower our students with the skills and knowledge they need to thrive in the digital age. They have access to a range of tools such as Microsoft Teams, Office 365, and Minecraft: Education Edition, which not only enhance their learning but also foster creativity, critical thinking, and collaboration. The use of technologies such as 'dictate' and 'immersive reader' have revolutionised the approach to SEN (special Educational Needs) teaching within the school and are of great benefit to students with EAL (English as an Additional Language).
Through immersive experiences and real-world applications of technology, our students are better prepared for the challenges of the 21st century. They can collaborate seamlessly with peers and educators, both locally and globally, breaking down geographical boundaries and gaining a broader perspective on global issues. Holmer Green now incorporates 21st Century skills-based group projects within the curriculum throughout KS3 and 4.
Furthermore, our status as a Microsoft Showcase School opens a world of opportunities for our students. They can participate in global projects and connect with students from other showcase schools, broadening their horizons and building valuable international relationships. This exposure to diverse perspectives and cultures enriches their educational journey and prepares them for a globalized world.
The Microsoft Showcase School Status also signifies our commitment to innovation in education. We continuously explore new ways to integrate technology into the classroom, adapting to the evolving needs of our students and the demands of the modern workforce. Our goal is to equip our students with the skills and mindset they need to succeed in a rapidly changing world.
This achievement reaffirms our dedication to providing a world-class education and our commitment to staying at the forefront of educational innovation.