Academic Results 2018
Results Data 2017 and 2018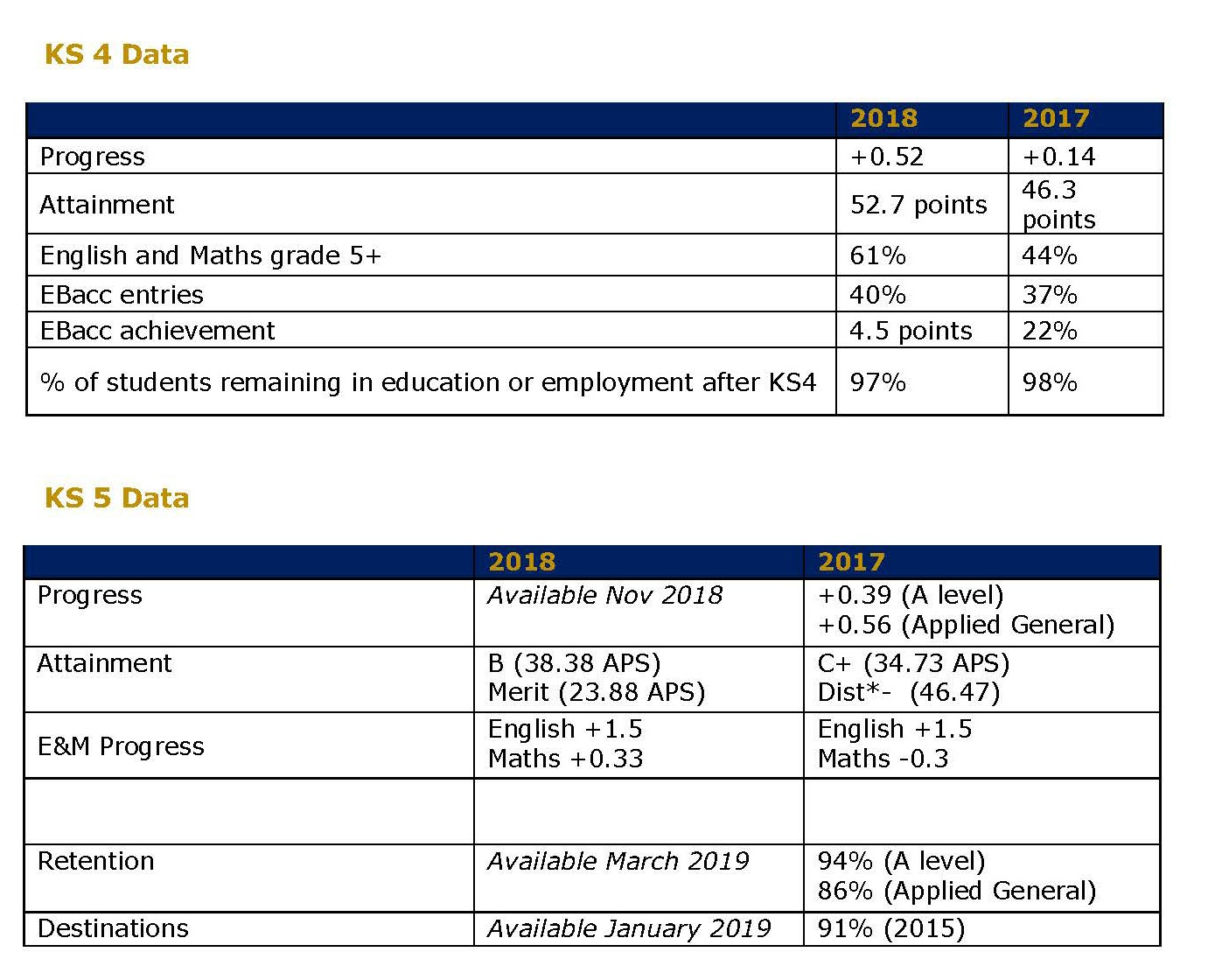 GCSE Results 2018
Holmer Green Senior School is delighted to announce a great set of GCSE results with 73% of students achieving 5 GCSE grades at 9-4 or A*-C including English and Maths. Across the whole school 20% of grades were 9-7 or A*-A, and 42% of all grades were 9-6 or A*-B. Over 45% of grades in Art and PE were 9-8 or A* which is an amazing achievement. Over 27% of grades were 9-7 or A*-A grades in Maths, Biology, Photography, Music and Graphics. There were also over 70% 9-4 or A*-C grades in Combined Science, Biology, Chemistry, English literature, Music, PE, Photography, Physics, RS, Spanish, Business Studies, Graphics and Resistant Materials.
Under the new 1-9 grading system 34 students secured a grade 9 with the significant majority of these coming from Maths. This is an exceptional achievement and it is great to see subjects like Art and Maths performing well above average at both GCSE and A-Level.
We have had some amazing success stories with our GCSE students this year. A number have received an entire set of grades above 7's (A*-A) and in particular a number of students have joined us from other countries and as well as getting grades 9-4 or A*-C across all their subjects have had to learn the English language first of all. Amazing!
Headteacher, Ed Hillyard commented: "It has been a good fortnight for Holmer Green Senior School. It has shown that it can perform exceptionally well across both GCSE and A Level qualifications as it has high expectations of its students. It is pleasing to note that our highest achievers are moving into our Sixth Form as they like the great support they get and the 'no excuses' culture.
A huge congratulation goes to all of our students who have kept working hard under all the GCSE changes and have still excelled. These results are also attributable to the great relationships the school has between its staff and parents, both of whom can take great pride in these results. I am constantly humbled by the hard work and excellence shown by our students and know they have earnt their successes."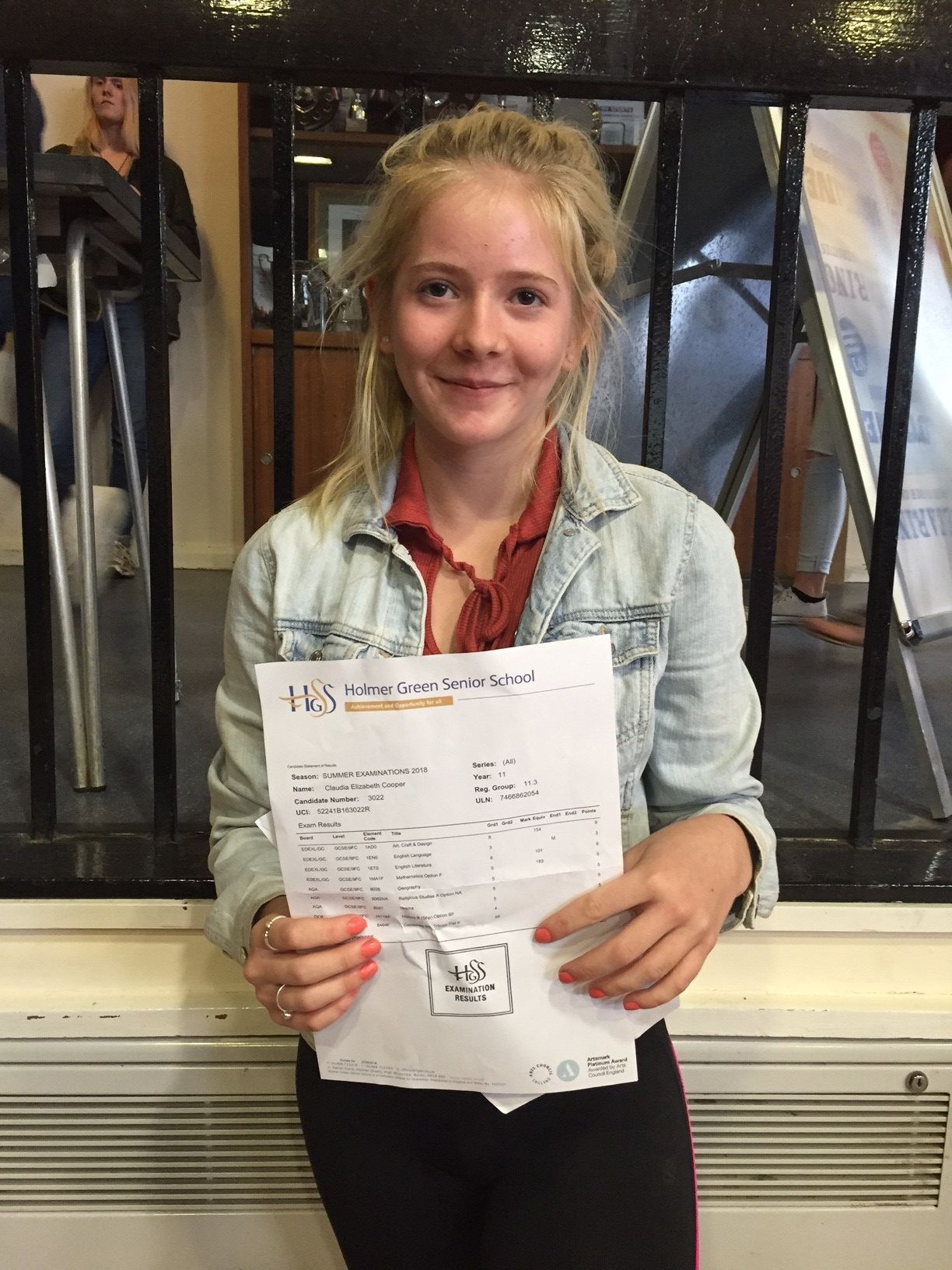 A Level Results 2018
Holmer Green Senior School is celebrating its best ever set of A Level results. In the academic subjects, 14% of grades were A* compared to the national average of 8%, 34% of grades were A*-A compared to the national average of 26%, 60% of the grades were A*-B with 86% being A*-C (9% higher than this year's National Average A*-C). The overall pass rate at A Level was 100% (grades being A*-E).
The results have meant that every student has achieved their destinations including prestigious Russell Group universities, such as Manchester, Bristol, Birmingham and Southampton to study courses like Mathematics, Mechanical Engineering, Chemical Engineering and Psychology.
Star performers included Lucy Weddell (A, A, A, Distinction), Matthew Hobbs (A*, A*, B), Anya Naumovic (A*, A*, B), Zainab Iqbal and Rebecca Lyle (A*, A*, C), Matthew Eteen (A, B, Distinction*), Toby Myles (A, A, B, Distinction*), Kimberley Rickards and Rosa Shaw who also secured (A*, A* grades).
In particular, our Art and Mathematics Departments have supported our students to secure phenomenal results. In Mathematics, 90% of students achieved A*-B grades, some 25% above the national average. In Art 13 students (45%) achieved A* grades, well over triple the national average of 12%. This is an exceptional achievement, particularly when the course is 50% dissertation and annotation based.
Headteacher, Ed Hillyard commented: "At Holmer Green we are extremely proud of all the hard work invested by our students, staff, governors and parents this year. They have worked as a team to ensure we have surpassed previous year's high performances for another year. As a non-selective school to be significantly above the national average for A* and A*-A grades is testament to Holmer Green's academic ethos. With 60% of our students getting A*-B grades they have been able to secure the University courses, and apprenticeship pathways they wanted. At Holmer Green we do not believe an 11+ or 12+ test defines a student. We know and show young people that with hard work they can achieve the same outcomes at Holmer Green compared to Independent or Grammar Schools. Our focus on individuals and giving them the right support means that they succeed.
Rachel Golding, our Head of Sixth Form, has worked exceptionally hard, leading a great team of A Level teachers who continue to raise expectations and demand excellence from all our students. Well done."