Art & Design: Textiles - A Level
The results in A Level Art Textiles are exceptional! This specification is designed to encourage candidates to explore a range of 2 or 3 dimensional approaches to their studies and extend their own ways of seeing the world.
Course content
Students will:
Record observations, ideas, information and insights appropriate to intentions.
Use art, design and textiles techniques to record observations, ideas, information and insights appropriate to intentions.
Analyse and artistically evaluate art, design and textiles practice demonstrating an understanding of purpose, meaning and context.
Use art, design and textiles skills to develop ideas through sustained investigations and exploration, selecting and using materials, processes and resources, identifying and interpreting relationships and analysing methods and outcomes.
Present a personal and informed response, realising intentions and showing connections with the work of others.
Recommended general websites
Institute of International Visual Arts - www.iniva.org
British Museum—www.britishmuseum.org
Getty Museum - www.getty.edu
Museum of Modern Art New York - www.moma.org
Guggenheim Museums Worldwide - www.guggenheim.org
Crafts Council UK —www.craftscouncil.org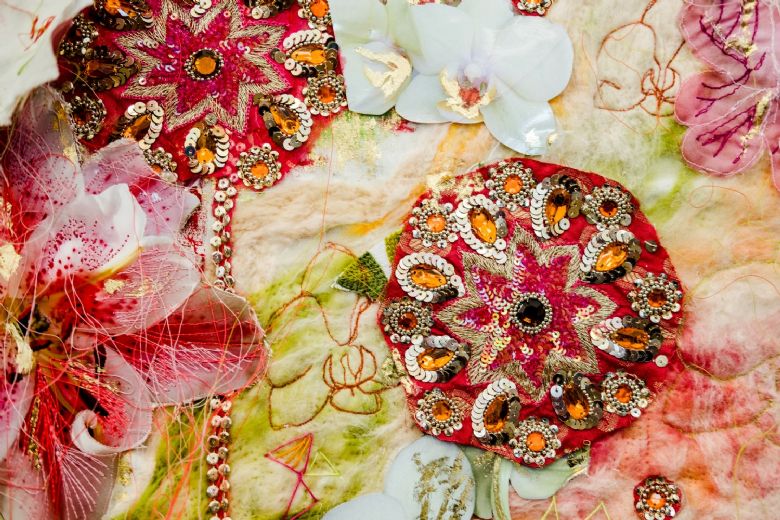 Photographers' V & A Museum - www.vam.ac.uk.
Gallery—www.photonet.org.uk
Examinations
Exam Board : Edexcel
Textile Design9 TEO
AS
Unit 1: Coursework project (50% of AS Level)
Unit 2: Externally set project including an exam (50% AS)
A2
Unit 3: Coursework project including written personal study (60% of A2)
Unit 4: Externally set project including exam (40% of full A2)
Head of subject: Mrs A Hearne
Entry Requirements
Grade 5 in an Art subject, portfolio of work
Are you interested in: Fashion and clothing, Surface pattern, Colour and shape?
Leading to a career in: Interior Design, Fashion Design, Costume Design, Clothing Industry, Buyer for retail outfit, Textiles and Surface Design, Architecture, Photographer, Set Design
This subject goes well with: Any subject!
Student views
"Textiles has encouraged me to embrace a love of colour and pattern. I have also learned how to construct garments."